Riverside Finds a Bone to Pick
Firm Acquires Australian Orthopaedic Implant Company
The Riverside Company has acquired Global Orthopaedic Technologies (Global), an Australian manufacturer and distributor of orthopaedic implants.
With two research, design and manufacturing facilities in Bella Vista and Seven Hills in New South Wales, Global supplies implants and instrumentation for hip, knee, shoulder and spine surgeries, along with related orthobiologics.
Riverside has partnered on the transaction with Andrew Fox-Smith and Duncan Lilley. Fox-Smith is a former Group President - International with Stryker Corporation, and has more than two decades of experience in the global orthopaedic market. Fox-Smith will serve as CEO. Lilley has most recently held senior roles with British Standards Institution (BSI) and SAI Global and will serve as COO.
Global was established in 1999 by Mike Ribot and Steve Banks and has grown to become the largest Australia-owned orthopaedic implant designer and manufacturer. Ribot and Banks will continue to be involved with Global as shareholders and senior managers, providing a wealth of knowledge and experience in the Australian orthopaedic industry.
"Global has an enviable product portfolio and a history of innovation," said Riverside Partner Simon Feiglin. "They're a growing company in an expanding market thanks to offering products and services that are valued by surgeons and relied upon by patients in Australia and increasingly around the world."
"We are delighted to partner with Riverside and Andrew Fox-Smith, who bring their vast international experience to Global, enabling us to develop new and exciting growth opportunities," Ribot said. "When Steve and I started Global, it was with a vision to create a multinational orthopaedic business and this transaction is an important milestone in realizing that vision."
Riverside's deep experience in the healthcare sector includes more than 70 investments in the space, supported by a dedicated team of specialists who can help Global identify new opportunities and enter new markets.
"By partnering with Riverside, we have an exciting opportunity to not only organically expand Global, but also look at value-added acquisitions that can accelerate our growth objectives," said Fox-Smith. "Global offers a comprehensive suite of products, has a demonstrated ability to develop and commercialize new products, and works closely with some of Australia's leading orthopaedic surgeons. We intend to build on this success and open doors to new relationships and new opportunities to position the company for continued and long-term success."
Working with Feiglin on the deal for Riverside was Vice President Steven Spiteri and Associate Bo Heitz.
Babson Capital and Commonwealth Bank of Australia provided financing for the transaction. Jones Day, Deloitte, KPMG and AT Kearney advised Riverside on the deal.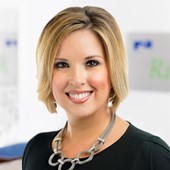 Holly Mueller
Consultant, Global Marketing and Communications
Cleveland
+1 216 535 2236